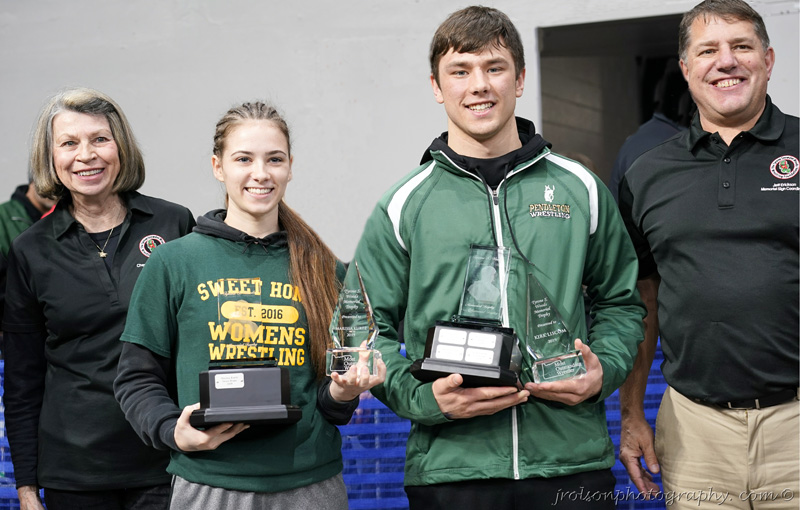 Photograph courtesy of JROlson Photography
WE ARE PROUD TO ANNOUNCE THE RECIPIENTS OF THE 2019 TYRONE S. WOODS MEMORIAL TROPHY AND $1000 SCHOLARSHIP
Marissa Kurtz from Sweet Home and Kirk Liscom from Pendleton.
On the evening of February 23 at the OSAA Wrestling Championships at the Portland Veterans Memorial Coliseum, TSWWF proudly presented the 2019 TSW Memorial Trophies and $1000 scholarships to two exemplary wrestlers, scholars, and citizens. This award began in 2016 as a way to pay tribute to SCPO US Navy SEAL Tyrone S. Woods, American Hero, who perished in Benghazi, Libya, in 2012. As a freshman high school student, Tyrone was a member of the Cleveland High School wrestling team in Portland and then during his sophomore through senior years, he wrestled on the Oregon City High School team. In 1989, after placing 2nd in district, he used his grit and never-quit attitude to grapple his way to the OSAA State Championship podium, placing 5th in the 135 lb. bracket. He also was a co-recipient of the "Most Inspirational Wrestler" award his senior year sharing the laurels with his teammate, Larry Oliver. Wrestling was his passion, and what he learned from the sport provided the attitude, skills, and tools that helped him graduate from SEAL BUD/s Class 177 and influenced him to become the man he was. By awarding this prestigious annual trophy, TSWWF seeks to recognize Tyrone's wrestling achievements, maintain his legacy, and promote interest in the great sport of youth wrestling.
This year, for the first time, the lady wrestlers were represented at the OSAA tournament, so two trophies were presented - one to a senior boy and one to a senior girl. As in past years, TSWWF received many impressive applications and the board was again tasked with picking the best from so many outstanding young people. Prior recipients as listed below are representative of the excellence and quality of previous applicants.
This year's male awardee, Kirk Liscom from Pendleton High School, is an exceptional scholar with a 4.0 gpa, ranked first in his class out of 293; an accomplished and dedicated wrestler placing in various meets and district; and active in his community with many hours committed to volunteering with youth programs and tutoring. This fall, he will enter the United States Naval Academy as a member of the Class of '23. In his personal essay he wrote "Wrestling not only trains one's body but also his/her mind. It has taught me to never give up. Wrestling can motivate someone to continue to strive for greatness throughout life. "
The girl's trophy recipient, Marissa Kurtz from Sweet Home High School, also has an exceptional record of achievement as a scholar, citizen, and wrestler. She has a 3.7 gpa, membership in NHS, and participated in volleyball, wrestling, and softball for four years. Her community service includes being an outdoor school counselor, helping with community clean-up projects, and coaching young wrestlers during their practices. Her Winning first place this year at state in the 110 lb. bracket attests to her talent and skill as a wrestler. In the past she has earned other state championships and boasts a four-year career record of 25/1, 28/2, 34/8, and 28/1, placing first in all her tournaments this year except one. She wrote in her essay, "I started wrestling in the 6th grade and I was the only girl on the team. Parents and coaches told me that I wouldn't get anywhere in this sport. But I worked hard to show that I could do anything the boys could do. Now we have 9 girls on the team. I went through the rough times so other girls would be able to join without getting torn down. Without wrestling, I wouldn't be the hard worker I am today."
TSWWF was very pleased and proud to present the 2019 Tyrone S. Woods Memorial Trophies and $1000 Scholarships to these two exemplary young people.
Congratulations, Kirk and Marissa!!
Visit KPTV's page to watch the 2017 Award Presentation by clicking here.
PAST WINNERS:
2018 Ryan Bibler from Dallas High School
2017 Mackyle Little from Culver High School
2016 Tyler Self from Glencoe High School