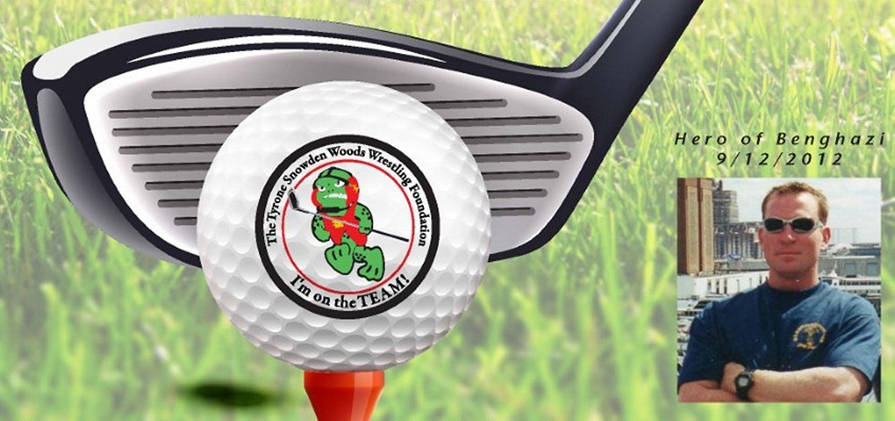 2022 CONGRESSIONAL GOLD MEDAL AWARDEE
Global War on Terror, Benghazi, Libya

SAVE THE DATE!! SATURDAY, JUNE 17, 2023
TSW MEMORIAL GOLF CLASSIC
IT'S TIME TO REGISTER YOUR TEAM for the 6th Annual TSW Memorial Golf Classic set for June 17 at the prestigious Stone Creek Golf Club in Oregon City, OR. It's not too early to reserve a spot for you as an individual player or your foursome. Click here for 2023 Team Registration Form.
If you want to be a sponsor, there are plenty of opportunities. Use the linked form to sign up to sponsor contests, prizes, or one of the many other choices. Click here for 2023 Sponsor Form.
Mark your calendars now to save the date, Saturday, June 17, and join us for a fun day of golf at Stone Creek in support of Tyrone's wrestlers. Because of the involvement of our many loyal sponsors and players who have contributed to the success of our past 5 tournaments, we are looking forward to another great golf classic. Please see our list of tournament supporters and show your support by patronizing those businesses and organizations whenever possible. Last year, so many caring people opened their hearts and their wallets and helped TSWWF realize proceeds of $15,000. Our goal this year is to reach $20,000. Overall, after the checks are written for the $8,000 in scholarships awarded to the 2023 OSAA champion wrestlers, we will have exceeded $95,000 in total contributions since our formation in 2015. We are grateful and proud for that accomplishment! It reflects that success can be the result of a "never quit" attitude!!
100% OF PROCEEDS WILL BENEFIT YOUTH WRESTLERS AND WRESTLING PROGRAMS. WE ARE AN ALL-VOLUNTEER, NONPROFIT WITHOUT COMPENSATED EMPLOYEES.
OUR VALUED SPONSORS OF PRIOR TSW MEMORIAL GOLF CLASSIC TOURNAMENTS • 12 Bridge Ciderworks • Benchmade Knives • BirdieFinish Golf • Black Rifle Coffee Company • Bloomin' Boutique • Buathong Thai Cuisine, Milwaukie • Bud's Crane • Buel's Impressions • C it Clean it – Cathy Poppen • Clackamas Auto Parts • Coin Toss Brewery • Concord Plastics & The Sampson Family • Bobbi Eddy • Eagle Creek Golf Course • Estes Garage • Greenlea Golf Course • Gresham Golf Course • Kaye Hanni • Hillside Chapel • Dr. Dale Johnston and Gayle Johnston • Kahr Firearms • Legit Exteriors • Lester's American Made Marine Gear • P.G. Long Company • Marlin Grahn • Mixtlan Grill • Mountain View Golf • Nine Line Apparel • Oregon City PD • O'Reilly's Automotive • OneHope Wine • Oregon City Brewing Company • Oregon City Optimists Club • P.G. Long Company • Pacific Hot Tub Solutions • Pro-Grafix Printing • Pugzee's Farm and Wellness Center • Raymond James • Rich Rolen Family • Roger Rolen • Stitch 'n Embroidery • Thaddea Apparel • Tools4Troops • Trail Distilling • Trail's End Golf • VFW Post #1324 • Nancy Schultz Vitaglio • Wichita Bar and Grill • The Wild Hare • Willamette Ale & Cider House • Debbie Wilson • Andreas & Nina Wolfe • Steve and Cindy Williams • Kristian "Tanto" Paronto • Pro Grafix • Stich 'n Embroidery