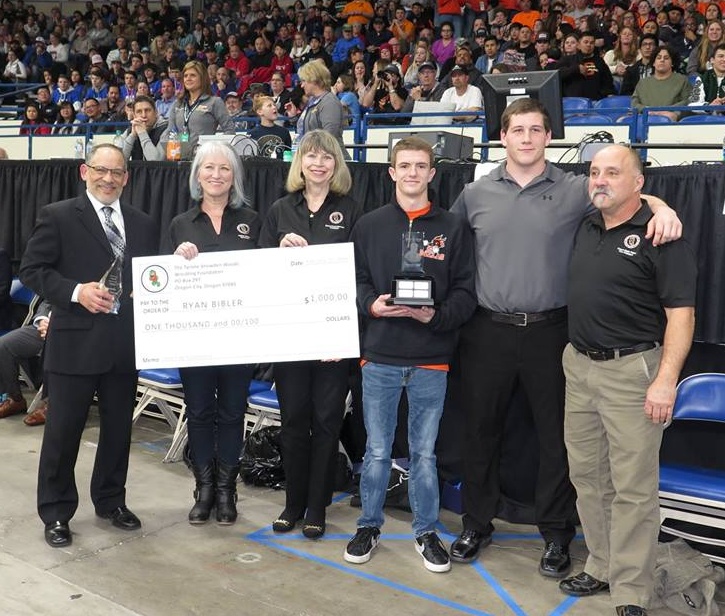 Veterans Memorial Coliseum TSWWF and Recipient Ryan Bibler
WE ARE PROUD TO ANNOUNCE THE RECIPIENT OF THE 2018 TYRONE S. WOODS MEMORIAL TROPHY AND $1000 SCHOLARSHIP
RYAN BIBLER, DALLAS HIGH SCHOOL
Each year at the Oregon State Wrestling Tournament in February, TSWWF is proud to present the Tyrone S. Woods Memorial Trophy and a $1000 college or vocational school scholarship to the most outstanding high school wrestler based on academic excellence, citizenship, and wrestling achievements. This trophy is a prestigious award and represents the values and ideals as exemplified by Tyrone during his high school wrestling career and his twenty years as a US Navy SEAL. This award is not just about having the best wrestling record. It is also about recognizing an athlete who has demonstrated service to his or her community and has a commitment to academic excellence.
In addition to completing the TSW Memorial Trophy application, a one-page essay is also required that describes what role wrestling has played in the applicant's life, what this award would mean personally, and why the applicant would be deserving of it. This essay is an important part of the award process, and it is an opportunity to showcase personal expression, writing skills, and important reasons for making a commitment to the great sport of wrestling. As with any application, it is very important for your presentation to be neat, accurate, and comprehensive. If you have questions or need assistance in filling out the application, please use your coach as a resource or email us at info@TSWWF.org. We are here to help you through this process.
The application must be received by February 8th.
Visit KPTV's page to watch the 2017 Award Presentation by clicking here.
PAST WINNERS:
2017 Mackyle Little from Culver High School
2016 Tyler Self