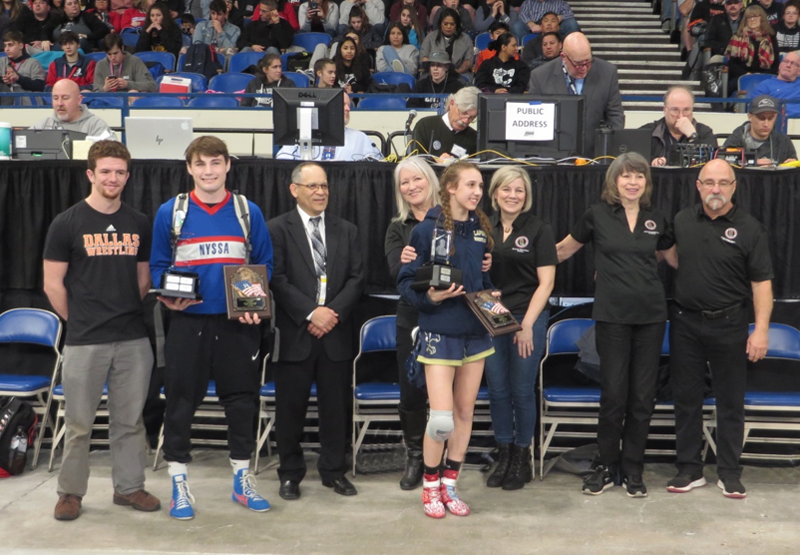 Photo: Ryan Bibler (2018 trophy recipient), Elijah Cleaver, director and coach Doug Samarron, director Debbie Wilson, Olivia Flack, director Shannon Sparwasser, president Cheryl Bennett, director and Coach Roger Rolen.
On Saturday night, February 29, 2020, at the Portland Veterans Memorial Coliseum, TSWWF was proud to present the TSW Memorial Trophy and Scholarship to seniors Elijah Cleaver and Olivia Flack for their excellence in wrestling, academics, and community service. The two young athletes were also surprised by the announcement that the individual scholarships were increased this year from $1000 to $2500.
Elijah, a Nyssa High School senior, has maintained a cumulative 4.0 gpa, ranks first in his class, is a repeat District and State Champion, placed 1st at state this year in the 152 lb. bracket, and plans on attending the Colorado School of Mines. He stated in his essay, "A wrestler's character is revealed in his defeats which will always teach more than the victories ever will. Wrestling is not complex in its physicality, but it is vastly deep in its character. It is the world's greatest sport."
Olivia, a La Pine High School senior, has earned a 4.09 gpa, ranks 1st in her class, has been a district and state champion with a 24-1 record, 2x Reno World's champion, placed 2nd at state this year in the 100 lb. bracket, and plans to attend college to seek a degree in the medical field. In her essay, she stated "Wrestling shapes people into better human beings with strong, worthy characteristics that will last a lifetime. Tyrone was a brave and selfless warrior who saved the lives of many people. A wrestler is someone who never gives up."
TSWWF is proud to recognize these two outstanding young wrestlers, scholars, and citizens with the awarding of the 2020 Tyrone S. Woods Memorial Trophies and $2500 Scholarships!
KPTV news coverage of this event can be viewed here.

NEVER QUIT! NEVER FORGET!
SCPO US Navy SEAL Tyrone Snowden Woods
American Hero – Benghazi Libya – September 12, 2012